Common Electrical Problems Found During Home Inspections

Here at Smith & Smith Home Inspections, our home inspector performs complete home inspections that cover the Grounds, Roof, Exterior, Garage, Bedrooms, Bathrooms, Kitchen, Laundry Room, Interior Components, Basement, Crawl Space, Attic, HVAC System, Plumbing, and Electrical. When inspecting home electrical systems, there are common electrical defects/problems discovered by checking electrical outlets and removing the dead front covers from main and/or sub panels. In this blog post, I'll focus on electrical outlets with open grounds, electrical outlets with reversed polarity, and double tapped neutrals.
An open ground is when a three-prong receptacle is not connected to an equipment grounding conductor or the home's grounding system. This is unsafe because if a fault were to happen, the surge could damage equipment or people rather than routing to the ground. One main reason for open grounds is that there is not a grounding wire present, likely due to an older home's electrical wiring not being fully updated with newer grounded wiring. In newer homes, open grounds are most often caused by a break in the grounding connection due to a loose or broken wire.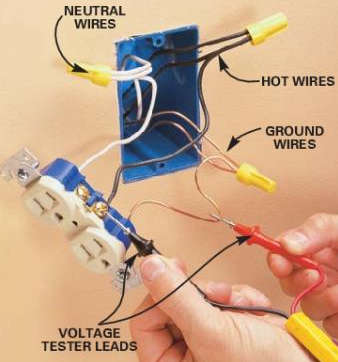 As an InterNACHI Certified Electrical Inspector, another common electrical defect I find during home inspections are outlets with reversed polarity. This is when the neutral wire is connected to where the hot wire is supposed to be. This causes electricity to continuously flow out of an outlet, even if an appliance is supposed to be off. In most cases, reversed polarity is due to amateur workers or DIY projects, but sometimes it is from an electrician accidentally mixing the wires up.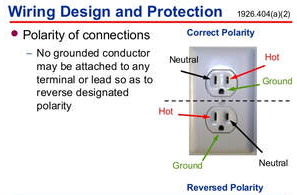 As a professional home inspector, it is common practice for me to remove dead front covers from electrical panels. In houses built before 2002, it is not uncommon for I to find double tapped neutrals. A 'double tapped neutral' is a slang term for one screw on the neutral bus bar to have more than one neutral wire feeding into it. Putting more than one neutral wire under the same lug in a electrical panel was a common practice by electricians' for many years up until 2002, when the National Electric Code (NEC) specifically stated that neutral wires must be isolated individually under their own lug on the bus bar. Double tapped neutrals can be both minor and major issues. When neutral wires are double tapped, they can come loose from their connection. When a loose connection occurs, overheating and/or arcing can result, which can be a fire hazard.

These three common electrical defects can cause risk or harm to people and/or property, and should be corrected as soon as possible. At Smith & Smith Home Inspections, I provide due diligence in finding and informing my clients of all electrical problems observed, whether big or small. Smith & Smith Home Inspections provides home buyer inspections throughout Murfreesboro, Smyrna, Lebanon, Shelbyville, Manchester, McMinnville, La Vergne, Winchester, Woodbury, Columbia, Nashville & The Greater Middle Tennessee Area. Contact us today to schedule your inspection!
https://www.smithsmithhomeinspections.com/wp-content/uploads/sites/129/2022/07/IMG-9825-scaled.jpg
2560
1920
tylersmith
https://du1fvhi5bajko.cloudfront.net/wp-content/uploads/sites/129/2020/06/12174641/SmithAndSmithHomeInspectionsLLC-logo-300x219.png
tylersmith
2022-07-02 10:22:27
2023-07-08 10:54:37
Common Electrical Problems Found During Home Inspections